Diablo II: Resurrected is an awesome game, and we hope that you enjoy it like we do.
However, the game has one small problem that we all face one day : The loading time of Town Portal and Way point are extremely long and painful. Is there a solution to this problem ?
The short answer is YES !
The long answer require several easy steps that we must take to unpack the game files, but fear not, we will guide you through this tutorial to do just that with a step-by-step list:
1. Update your Battle.Net Client and the D2R Client.
Before you start, it is important to have the latest version of the Battle.Net Client and the D2R Client (both), which contain all the latest game files to be unpacked. When D2R receive an update, it is important to repeat all the step present in this tutorial, otherwise you may experience bug or problems when playing the game, if the game try to reference outdated files.
2. Download and Install Ladik Casc Viewer
To unpack the D2R game files, we will use an application called Ladik Casc Viewer.
First, create a new directory to download the application to, by example C:\CascViewer\
Then download Ladik's Casc View and extract the application in the newly created directory.
(Credit to Ladik)
3. Run the appropriate version for your Operating System.
Run the appropriate version for your OS version, usually it is version x64 for 64 bits. You can verify by pressing Winkey + Pause (or right click on Start menu then System) and you should be able to see if you use a 32 bits version or a 64 bits, normally, windows 10 and 11 is x64.
4. Open the Game Storage
In Ladik's Casc Viewer, click the Open Storage button (folder looking one) and select the D2R installation folder. By default, it is located at "C:\Program Files (x86)\Diablo II Resurrected\"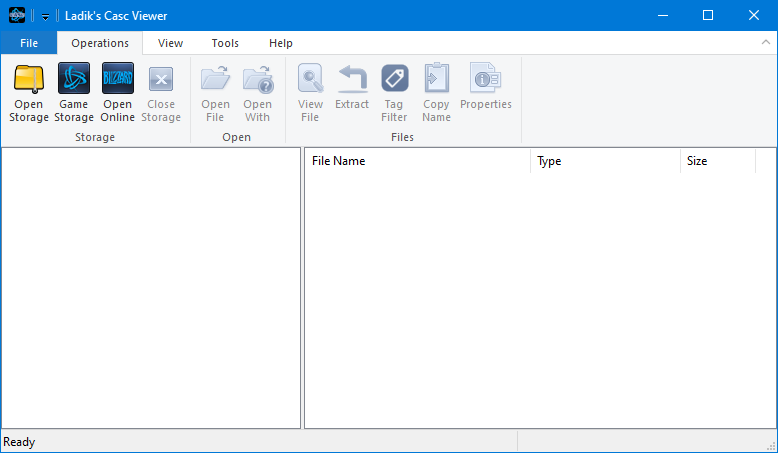 5. Extract the files
Select the "data" folder like in the screenshot below, then select "global", "hd" and "local" folder in the right pane, and click on the Extract Button, using the default setting.
Warning: This will take some time and require 40-45GB of space, let it finish without rushing it.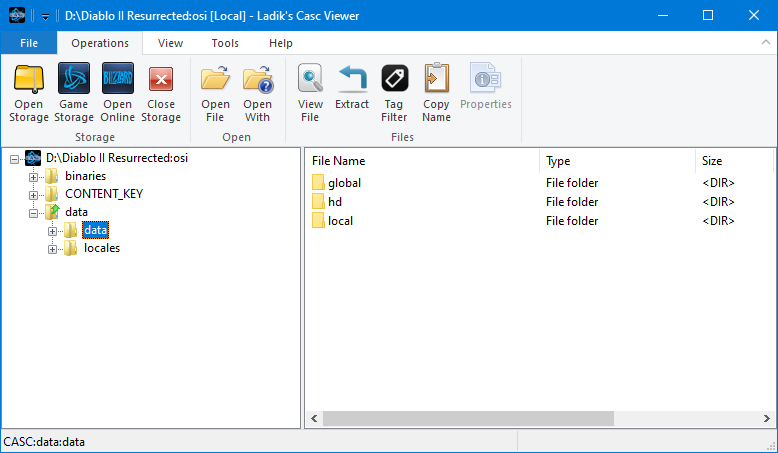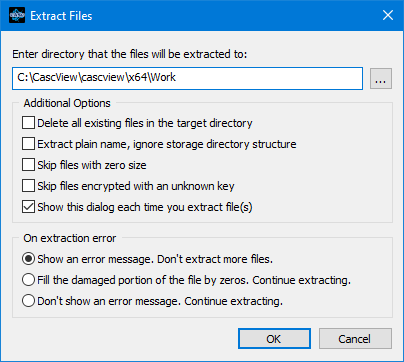 6. Move the Extracted Files into the D2R Client Data Directory
Once Step 5 is completed, if you check the Cascview directory, there should be a "Work" folder containing the three folders we extracted : "global", "local", "hd".
Move these files into the "data" directory inside your Diablo II: Resurrected game folder installation path, usually located by default at "C:\Program Files (x86)\Diablo II Resurrected\data\"
That it !
You are ready to play the game using the -direct -txt command line options. Remember to repeat these steps every time there is an update on D2R (Bookmark us!)